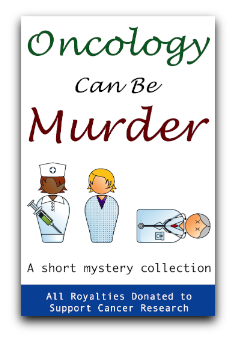 Now accepting submissions for Oncology Can Be Murder. Please see guidelines below.

Oncology can be Murder stories must feature an oncologist, an oncology/cancer center or a cancer patient. Lighthearted would be good. We don't want this to be a dark anthology. Authors will be paid $20 upon acceptance of their story. All royalties from the sale of this anthology go to support cancer research.

Click here to submit.
(murder's never been this funny)


Now accepting submissions for Myrth and Mayhem. Please see guidelines below.

Stories must be between 1500 and 5,000 words
The key to getting accepted for Myrth and Mayhem is to make the acquisition editors laugh out loud. We like a little myrth with our murder.

Pays $50 per story, Payment on acceptance.

Click here to submit.
Requirements:
Single .doc file
12 pt. Times New Roman font
Double-spaced
1-Inch margins
Submissions will be accepted through the website submission form only.
Include your manuscript as a .doc file attachment on the submission form.
Do not snail mail your submission.
Any manuscript sent snail mail will be recycled without being read.
When your file meets these requirements, please continue to our
anthology submission form
.