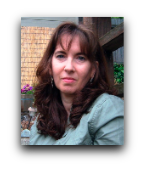 Lisa Polisar is a fiction writer, a journalist, and a musician. Her love affair with mysteries began with Nancy Drew and continued with Sherlock Holmes, Hercule Poirot, Inspector Morse, etc. Lisa did graduate work in psychology and orchestral music at University of Exeter in England. Forever fascinated with the psychology of crimes and criminals, she has continued to study forensic science and psychology ever since, as a way of digging deeper into the heart of her characters. Her eerie thriller,
Blackwater Tango
(Hilliard and Harris) takes place on Monhegan Island off the coast of Maine, and
Knee Deep
(Port Town Publishing) is a New Mexico mystery.
The Ghost of Mary Prairie
, published in 2007 by University of New Mexico Press, takes place in rural Oklahoma in 1961.
Lisa was six when she began flute and piano lessons, and she earned a degree in music and psychology from University of Hartford's Hartt School of Music. As a professional jazz flutist, she has recorded on numerous CD's, has taught workshops on jazz improvisation and creativity, is a private flute teacher, and performs with various ensembles. In 1998, Lisa wrote the book,
Straight Ahead: A Musician's Guide to Learning Jazz and Staying Inspired
(Chile Piper Press).
Lisa has written three comedy screenplays which she is currently marketing through
www.inktip.com.
Her short fiction and poetry have been widely published in literary journals, and she is the Fiction Editor for two literary journals —
Carve Magazine
and
12 Gauge Review
. As a journalist, Lisa writes features articles, technical articles, art reviews, and book reviews for several magazines. In 2004, she won two journalism awards from the National Association of Press Women for a feature article and an art review published in a New Mexico magazine.
Lisa grew up in Hingham, Massachusetts and has also lived in Connecticut, England, and New Mexico. She lives with her husband in northern California.
Lisa's other sites:
http://myspace.com/lisapolisar
http://facebook.com/lisapolisar
Blog:
http://relativitygirl.wordpress.com
A Sherlock Holmesian Blog:
http://holmestheimmortal.wordpress.com